BARITE
Usually occurs as massive white veins which may occasionally have embedded partially-developed, blackish sphalerite crystals or other sulphides. Small, tabular barite micro-crystals do occur and a few specimens with a "cockscomb" habit were found, the latter associated with galena.
MILLERITE
Recently recovered specimens include sprays to about 20mms.
QUARTZ
Generally massive, but small, well-formed micro-crystals do occur as well as small, micro-crystalline aggregates.
ANCYLITE
Small, pinkish micro-crystals have been detected in the past couple of years.
FLUORITE
Similarly, fluorite has been reported as micro-crystals of a cubic habit and with a pale green colour.
LOCATION PHOTOS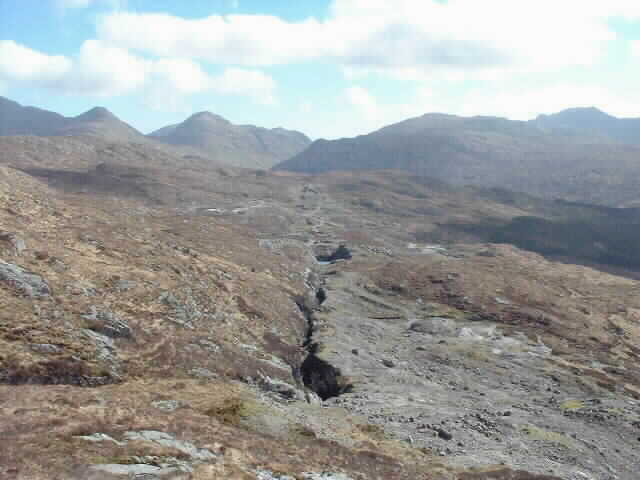 WHITESMITH MINE, Strontian.
Whitesmith Opencast Mine - View looking East.
(photo April 2002, courtesy David McCallum).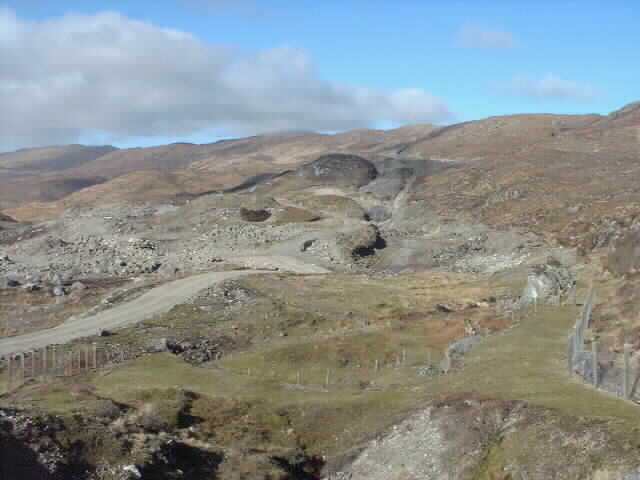 NEW MINE WORKINGS, Strontian.
View West across the main road to the new workings of the Whitesmith & Clashgorm sections.
(photo April 2002, courtesy David McCallum).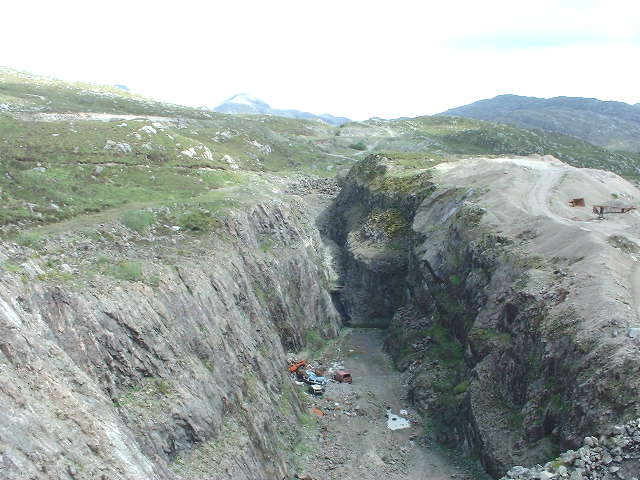 WHITESMITH MINE, Strontian.
View of he opencast workings of the 1980s
(photo April 2002, courtesy David McCallum).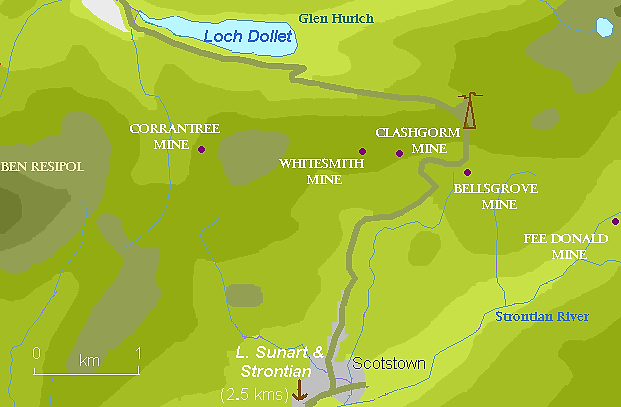 Mines of STRONTIAN
Map showing the general location of the main mines
that have been exploited both past and present.
Collecting

Collecting at Strontian is possible, but permission from the relevant authorities MUST be sought beforehand. The finds of recent years, though often small in nature, continue to make the locality one of mineralogical interest.

Acknowledgements

The author is very grateful to David McCallum for the use of the location photographs which he kindly made available for this article. A special thank you to Stephen Moreton for elucidating the locality information on recently extracted specimens.
Content by courtesy of :