As it turns out, however, the vein may actually be up to 11 meters thick, but only the 2 or 3 meters directly adjacent to the hanging wall were stoped by the early miners. This probably means that the pods of argentiferous galena were preferentially situated near the hanging wall. However, wulfenite mineralization appears to permeate all the way up to the footwall (the most recently found pocket ended right at the footwall). Based on this finding, the productive volume may well have exceeded 100,000 cubic meters, less than a quarter of which has already been mined.

Current Operation

Wayne Thompson, and his associates (1723 E. Winter Dr., Phoenix, AZ. 85020; tel 620-678-0156) have been engaged in a major specimen-mining operation at the Red Cloud mine. The mine, incidentally, is situated on the same fault as the North Geronimo mine featured elsewhere in this issue. The new operation at the Red Cloud began in January of 1996.

Rather than contribute further to the honeycomb of underground stopes, passages and crawlways, Thompson's group has decided to mine the entire volume of the vein, from hangingwall to footwall, in horizontal strips beginning at the surface. This eliminates to some extent the luck factor in that, if a pocket exists in that layer, they will find it. The only question is whether they will find enough in each strip to pay for the increasing cost of overburden removal to expose the next few meters of vein. So far they've done well, and are now down 10 meters along the fault from the surface (early miners stripped the first 4 meters of the vein before resorting instead to stoping in selected areas.).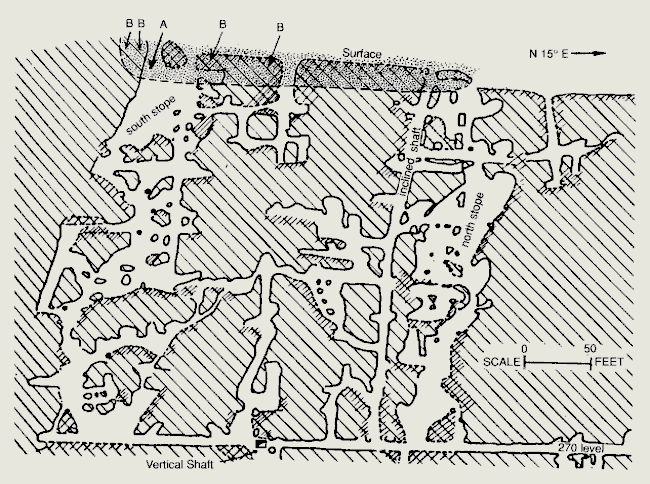 A section along the plane of the vein showing early workings in the Red Cloud mine, and also the area removed by the current operation (stipled). Ore was originally concentrated in two parallel zones (the south stope and the north stope); it remains to be seen how much wulfenite mineralization exists in the relatively unmined area between them. (Modified from Wilson, 1933.) A = large pocket of April 1996; B = smaller pockets.