Mineral collecting wulfenite in Austria
Author: Chris Auer
Content by courtesy of : Chris Auer
Despite the fact that Austria has some outstanding wulfenite localities that rank within the best in the world not many collectors outside of Europe know much about them.

For example, did you know that the type locality of wulfenite is in Austria? More about that occurrence later.

There`s one mine that produced the best specimen from Austria without any discussion and that`s the famous BLEIBERG mining region in Carinthia. I was lucky to work in one of those mines in 1984 as a young mining engineering student. There existed many hundred old mines in that region but well known wulfenite specimen came only from the eastern parts. Interesting mines were Franz Joseph, Rudolf or Stephanie. The last mine closed in 1990 and was reconstructed as a museum for tourists with the name "Terra Mystica". At one of the last drillings before closing, the miners found "yellow powder of wulfenite" in their drilling. Unfortunately those areas have been flooded now (some hundred meters water level), so good specimens are definitely history. The xx were up to some cm in size, occured in many different habits (bipyramidal, cubic, tabular, ...), colors (yellow, orange, red, green, brown, ...), paragenesis (with hemimorphite, cerussite, galenite, descloizite, calcite, ...) and even pseudomorph after different minerals.

(up to cm sized xx, Stefanie Mine, 12.Lauf, Bleiberg, Austria; coll+pic by C.Auer, Austria)

Although that there exist hundreds of old dumps you must be lucky to find some small micromounts. Best chances are on the large dump of the Alt-Stephanie next to the town of Bleiberg.

In Carinthia exist different other closed mining regions with similiar wulfenite occurrencies.

Within the best specimen produced the different mines of the HOCHOBIR, especially those at the Oberschäffleralm and Möchlingeralm. A well known mine there is the dangerous Adolf mine, which has been also famous for Austria`s best vanadinite xx (up to 1 cm). Access to that region is easy nowadays as you can go up by bus and have to walk only 45 minutes to the mine. If you plan to visit that area don`t miss the excellent Obir-caves. You will be impressed for sure!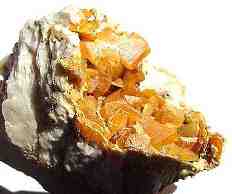 (rare 8 mm sized xx, Obir, Austria; coll+pic by C.Auer, Austria)

Other wulfenite regions in Carinthia are JAUKEN (very beautiful cubic xx were found recently), KOLM (wulfenite was collected as ore in the First World War!), BLEIRIESE, STEINFELD, RUDEN, FINKENSTEIN and many, many more.

Geologic similiar mining areas were also situated in Lower Austria. Three of them produced also wulfenite as a extremely rare byproduct. The most famous was the ANNABERG mining region which is also the type locality of that species (Joannis von Nepomuceni mine).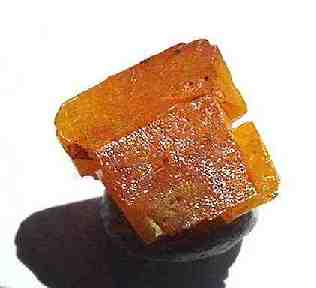 (1,2 cm x, Annaberg (type locality!), Austria; coll+pic by C.Auer, Austria)

Ignatius von Born described it anno 1772 as plumbum spatosum. You can read my whole story in Min.Record (May/June 1998). The other two were TÃœRNITZ and PUCHENSTUBEN.

Nice specimen of wulfenite were found also in Tyrolean mines, like in the famous BRIXLEGG mining region, IMST or HEIMING.

Another geological interesting occurence of wulfenite is as a paragenetic mineral in Alpine clefts. There exist too many different regions, especially in Salzburg that would be noteworthy. I just want to mention the ACHSELALM. That`s the name of an old High Alpine fluorite mine, but next to it very nice wulfenite xx on galenite were found.
Content by courtesy of :
Chris Auer