Links
pàgina 2

Ciencia y misterio


Web realizada por el grupo radiofónico el ALEPH


Marco Macchieraldo's Minerals


You're welcome on one of the oldest Italian web site about minerals !!


Russian Mineral Site ( mineralogist )


Only at Mineralogist´s you can purchase or exchange specimens of recently discovered minerals and mineral species which are found only in Russia. We arrange trips around Russia with the aim of getting minerals for our clients.


YupRocks.com


YupRocks.com is dedicated to bringing you quality, high-resolution pictures of rocks and minerals.


Geologie-info.com


geologie-info.com a comme vocation la promotion des Sciences de la Terre auprès du grand public. Le site se propose de faire connaître et de valoriser les différents Acteurs des Sciences de la Terre, plus particulièrement ceux de l'Eurorégion.


Spathfluor.com


Very interesting website devoted to fluorite, especially to french sites. With for the moment, more than 30 mines described. The uses of fluorite, and of course, the description of the author's book "La Mine de Fluorine de Valzergues".


Spathfluorminerals.com


Superb website where you'll find worlwide chosen specimen, in a structure easy to use. More than 600 minerals are presented, and others will arrive...



Earth Sciences Fair Projects and Experiments


Very interesting web site about Earth Sciences fair projects and experiments

Pixie Crystals! Crystals and Fine Minerals Specimens.


We sell natural crystals, stones and minerals specimens from around the world. Specialists in Himalayan Quartz and Himalayan Calcite we also stock beautiful Amethyst, Aquamarine, Azurite, Smokey Quartz and many more stunning minerals.


Afrigemtec -South african gems and minerals


South african agates, gemstones, mineral specimens, quartz, lapidary and cut stones.


Agates from Sudetes - Poland and Czech


On this web page you can see some speciments from my agates colletion from different locations in Sudetes (Mountain range in Central Europe – area Poland and Czech).


Crystal-Treasure.com


Here you find rare and unusual gem crystals & minerals and collector stones mostly from Burma and Vietnam! Serendibite, Painite, Pollucite, Trapiche Sapphire and Ruby, Petalite, Phenakite, Baddeleyite, Jeremejevite Spinel and much more….


Online Minerals


Online Minerals is an Internet mineral dealership. We sell mineral specimens for mineral collectors and offer aesthetic specimens from Southern Africa and other international localities. We are located at Fourways, near Johannesburg, South Africa.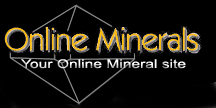 Gems of Nirvana


Gems of Nirvana offers beautiful precious and semi-precious loose gemstones to jewelers, investors, collectors and customers in the United States and international markets.

Jinan Chinese Mineral Trading Co., Ltd.


One of the Largest on line store from China! Featuring more than 10,000 mineral specimens with plenty of species from China!