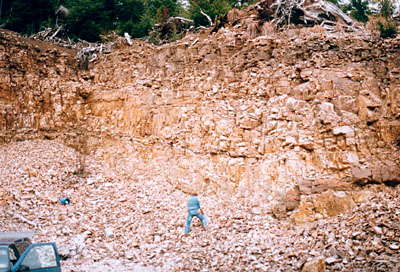 Scenic stone quarry, near Tlell.

Dutes has been mining this material for the last 10 years. Each piece is individually selected to bring out the best scene possible. The scenes are all highlighted by A white border, which enhances these images. The hardness of the stone is about 6 (Mohs), which makes it nice to work, carve and polish.

Scenic stone makes great lapidary material.


This close-up view of scenic stone shows the beautiful bands,
which resemble scenery.

Scenic stone is a truly Canadian material, which hopefully will be shown and sold this year in Tucson, Arizona. Interested dealers are welcome to inquire. Metaphysically the material has been described as a stone, which is A portal to an ancient place when earth was still young.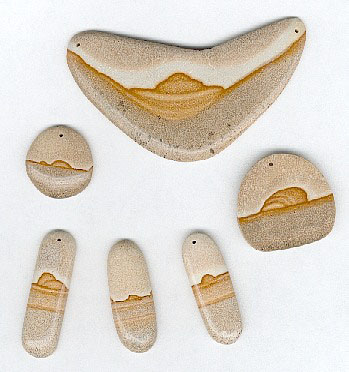 Scenic stone can be turned into beautiful jewellery.

Travelers to our shop have they often remarked how the images remind them of Ayers Rock in Australia or of the buttes in Sedona, Arizona. The panoramic image of landscapes in sepia tones you have a calming effect ace you gaze into it.
Content by courtesy of : Dutes Dutheil
This article may not be copied, distributed or reprinted in any form without the author's permission. To contact the author, please use the e-mail address provided. For more information about this type of stone, please contact Dutes Dutheil. Dutes may be contacted by e-mail: goldngem@island.net